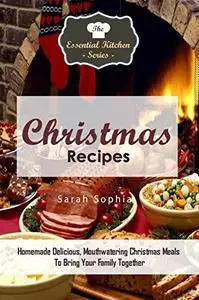 Sarah Sophia, "Christmas Recipes: Homemade Delicious, Mouthwatering Christmas Meals To Bring Your Family Together"
English | 2015 | ISBN: 1517258928 | 36 pages | EPUB | 0.447 MB
Homemade, Delicious Christmas Meals to Bring Your Family Together
Holiday cooking is a source of great pride and enjoyment but also can create a level of anxiety and pressure that shouldn't exist during the holidays. The Essential Kitchen Series is here to help with Christmas Recipes: an assortment of traditional holiday meals that are delicious and rewarding. Enjoy a host of recipes that will top any favorite's list at your next gathering of friends, family, or work associates.
Cook delicious, mouthwatering meals with ease and very little mess.
Deliver Memorable Christmas Entrees in a Snap
Utilizing a variety of meats and tastes, we've put together a recipe book that will appeal to any number of tastes or ambitions. Just take a look at some of the amazing recipes we've included in this phenomenal cookbook:
Rolled Pork RoastGarlic Roasted Prime RibHerb Roasted Chicken with LemonHerbed Crown Roast of LambRib Roast with MustardBrussels Sprout Sauté with Cranberry and PecanProsciutto-Wrapped AsparagusCreamy Mashed Purple Sweet PotatoesRoasted Carrots with Cilantro-Tahini SauceGrilled Cabbage Wedges
Once you've mastered the recipes contained in this easy-to-follow cookbook, you'll astound your family and friends with your own concoctions. There is literally no way to go wrong with these wonderful recipes.
Holiday Cooking to Entertain and Delight
The holiday season should be more about spending time with family than being tied to the kitchen. The recipes we've included here are perfect for providing a mouthwatering meal, while not missing out on the fun. They are ideal for the beginner or seasoned chef and will please virtually any palate. However, the test is in the tasting. Give it a try and be more than prepared for your next family gathering.
Adopt the idea of 'I can do it' and buy this cookbook today!
You'll have absolutely no regrets, but will be thrilled with the comments these recipes will elicit from your loved ones. When you purchase today, you will also get access to a special free gift from The Essential Kitchen Series ($97 Value).