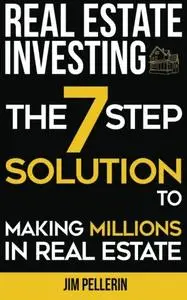 Jim Pellerin , "Real Estate Investing: The 7 Step Solution to Making Millions in Real Estate"
English | ISBN: 1517521343 | September 1, 2015 | EPUB | 272 pages | 678.61 KB
The mechanics of Real Estate Investing is simple: Buy a house and do something with it. Fix it and rent it, or just sell it. Sounds simple doesn't it? Yet only a small percentage of us have enough courage to go out and take advantage of the opportunities that are available to us. Real Estate Investing can be more promising than stocks, bonds and various other securities because of the higher rates of return. In this book I show you how to get started by describing the different types of skills you need, by showing you how to take control of your personal and financial situation and by helping you decide what type of real estate investing you want to get involved in. I also show you how to find properties, how to analyze them and how to make an offer that makes sense. And finally I describe what you need to do to manage your investment and ultimately how to sell your investment for the most profit. I have been involved in real estate investing for over 20 years. I have yet to find a book that focuses on the investor and the overall process. Sure, there are lots of books on fix and flips, buy, rent and hold, rent to own, etc. However, I haven't found any good books on how to really get started in the real estate investing process from a practical viewpoint. The technical aspects of real estate investing are really quite easy. But if it's so easy, then why isn't everyone doing it? This book is for people who are serious about getting started in real estate investing and who want to join the 5% of those who actually take action and invest. This book provides a strategic approach with the tried and tested methods and principles that have helped others make millions in real estate.