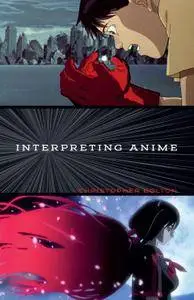 Interpreting Anime
Univ Of Minnesota | English | 2018 | ISBN-10: 151790403X | 328 pages | PDF | 11.12 MB
by Christopher Bolton (Author)
For students, fans, and scholars alike, this wide-ranging primer on anime employs a panoply of critical approaches
Well-known through hit movies like Spirited Away, Akira, and Ghost in the Shell, anime has a long history spanning a wide range of directors, genres, and styles. Christopher Bolton's Interpreting Anime is a thoughtful, carefully organized introduction to Japanese animation for anyone eager to see why this genre has remained a vital, adaptable art form for decades.
Interpreting Anime is easily accessible and structured around individual films and a broad array of critical approaches. Each chapter centers on a different feature-length anime film, juxtaposing it with a particular medium—like literary fiction, classical Japanese theater, and contemporary stage drama—to reveal what is unique about anime's way of representing the world. This analysis is abetted by a suite of questions provoked by each film, along with Bolton's incisive responses.
Throughout, Interpreting Anime applies multiple frames, such as queer theory, psychoanalysis, and theories of postmodernism, giving readers a thorough understanding of both the cultural underpinnings and critical significance of each film. What emerges from the sweep of Interpreting Anime is Bolton's original, articulate case for what makes anime unique as a medium: how it at once engages profound social and political realities while also drawing attention to the very challenges of representing reality in animation's imaginative and compelling visual forms
Review
"A remarkable book, Interpreting Anime explores how to approach this genre in an intelligent, insightful way. Christopher Bolton's readings are sophisticated without being overwrought or turgid—they are well argued, but leave room for the reader to speculate, contest, and take them further."—Michael Dylan Foster, University of California, Davis
"Having just completed Interpreting Anime, I come away convinced that Christopher Bolton is simply the best scholar writing on anime at the current moment. His readings apply a gamut of approaches, from postmodernism to gender studies to individual texts, but they remain accessible and consistently fascinating, inspiring a deeper appreciation of this protean medium. The book is an intellectual joy to read."—Susan J. Napier, Tufts University
"In his brilliant, acute, and always accessible Interpreting Anime, Christopher Bolton applies deep knowledge of Japanese aesthetic traditions, global media culture, and posthumanist theory to close readings of some of the most artistically ambitious and culturally significant works of the artform. Showing anime fans the beauties of theory and scholars the profundities of anime, Bolton recounts a specifically Japanese history of cyborg art, while offering insights into that most neglected and ubiquitous category of experience, fiction itself. Interpreting Anime is destined to become a classic study of anime and the cyborg imagination."—Istvan Csicsery-Ronay, DePauw University
About the Author
Christopher Bolton is professor of comparative and Japanese literature at Williams College. He is author of Sublime Voices: The Fictional Science and Scientific Fiction of Abe Kōbō, coeditor of Robot Ghosts and Wired Dreams: Japanese Science Fiction from Origins to Anime (Minnesota, 2007), and a founding member of the Mechademia editorial board.