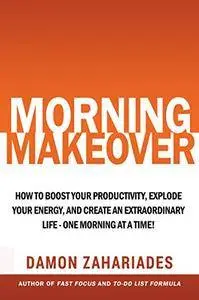 Morning Makeover: How To Boost Your Productivity, Explode Your Energy, and Create An Extraordinary Life - One Morning At A Time! by Damon Zahariades
2017 | ISBN: 1520814798 | English | 158 pages | EPUB/AZW3 | 0.2 MB/0.4 MB
Reduce Your Stress, Feel More Energized, And Experience More Success Each Day With A Simple Morning Routine!
Do you want to enjoy better health, stronger relationships, and improved focus? Would you like to lower your stress levels, develop a positive attitude, and have more quality time to yourself?
If so, there's an easy way to make it happen: undergo a MORNING MAKEOVER.
Amazon bestselling author, Damon Zahariades, shows you how to overhaul your mornings to enjoy a greater level of personal and professional success each day. By creating purposeful morning routines, you'll experience less mental fatigue, improved physical health, a more optimistic mindset, and increased productivity. In MORNING MAKEOVER, you'll learn a simple, step-by-step system for developing routines that complement your goals.