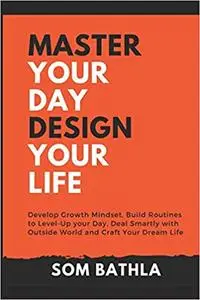 Master Your Day - Design Your Life: Develop Growth Mindset, Build Routines to Level-Up your Day, Deal Smartly with Outside World and Craft Your Dream Life by Som Bathla
English | 2017 | ISBN: 1521517207 | 113 pages | EPUB | 0,7 MB
Each day is a day of decision and our decisions determine our destiny" ~ Russel M. Nelson
Do you find yourself filled with stress and anxiety while trying to manage your day? Do you feel frustrated on how to deal with difficult people and negative circumstances? Do you think your days pass by without achieving much?
Find out how to develop success mindset and take full responsibility for your life, and how a few small shifts in your daily routines can help you design your life!
Here is a simple and practical solution
Master You Day - Design Your Life- Develop Growth Mindset, Build Routines to Level-Up your Day, Deal Smartly with Outside World and Craft Your Dream Life
In this fast-paced and practical Book you will learn what it takes to achieve the state of consistent performance and how to develop good habits and success mindset.
The book contains a complete chapter on people management related issues, which explains how to deal with difficult people and other adverse circumstances
It's based on science, cognitive neuropsychology and real-life examples and contains quick exercises to create momentum towards a happier, healthier and wealthier life.
A Glimpse of What You should expect out of this Book:
You would learn what types of growth mindset will simply design your life for extreme positivity and productivity.
Learn the develop good habits and daily routines to imbibe in your mind to make your life work on sub-conscious level.
Understand to implement effective daily reminders for achieving a calm and focused day.
You will learn the best strategies for dealing with difficult people and smartly handle the people management issues including techniques like "CTT Technique"
Learn how to effectively handle the adverse work pressures and how to show peak performance despite facing the failures.
Understand the "3 minutes/3 Hours/3 Days" Rule for getting surrounded with achievers.
If you are an introvert, no worries, learn how to be "Selectively Social"
Learn the least heard "18:40:60 Rule" for prompting you to become more authentic.
Learn the "PDF Principle" to improve productivity and stay longer in the game.
And much more…
So, how long will you wait for your circumstances to change without any action? How much longer will you ignore your true potential, which is just few habits and routines away?
You can really design your life- but you have to master your day first.