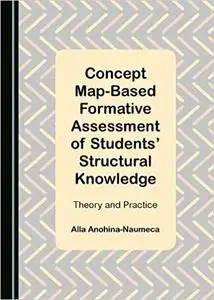 Alla Anohina-Naumeca, "Concept Map-Based Formative Assessment of Students Structural Knowledge"
English | ISBN: 1527532798 | 2019 | 174 pages | PDF | 1443 KB
The modern knowledge-based economic model demands highly qualified specialists who are capable of solving complex problems and seeing relationships between phenomena, events, and objects. This book highlights the development of the structural knowledge of university students as a necessary precondition for preparing labour market experts, as it facilitates significant cognitive processes, effective problem solving and expert-level performance. The volume considers structural knowledge as an object that should be regularly assessed and further developed in the formative assessment process by using concept mapping as an assessment instrument. It describes concept mapping, the theoretical foundations of structural knowledge, and its formative assessment, and provides a set of practical scenarios validated in instructional practice. It is intended primarily for the administrative and educational staff of higher education institutions who wish to improve the quality of education with the aim of bringing students' structural knowledge closer to experts' knowledge, and thus ensuring better preparation of students for their professional activities.
Read more