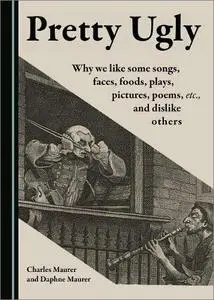 Pretty Ugly: Why We Like Some Songs, Faces, Foods, Plays, Pictures, Poems, Etc., and Dislike Others by Charles Maurer, Daphne Maurer
English | November 1, 2019 | ISBN: 1527538605 | PDF | 327 pages | 131 MB
People are chemical machines, yet we (and some other animals) develop a sense of beauty. Why and how did it evolve? How is it formed?
This book answers these questions from the perspective of scientists with deep knowledge of the arts. It interweaves experimental sciences with the histories of art, architecture, music, dance, speech, literature, and food. Although we perceive each of our senses to be dramatically different, the text shows them all to be similar under the hoodsimilar in how they function and in how they shape our aesthetic experience. This book covers many fields, and does not assume the reader has any special knowledge or expertise. It avoids jargon, equations and formulae, and begin every discussion at an introductory level.