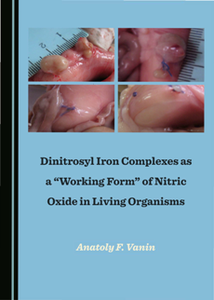 Dinitrosyl Iron Complexes As a 'Working Form' of Nitric Oxide in Living Organisms
by Anatoly F. Vanin
English | 2019 | ISBN: 1527539067 | 277 Pages | PDF | 12.9 MB
This book sums up the results of more than 50 years' work on the physico-chemical characteristics and biological activities of dinitrosyl iron complexes (DNIC). The interest of researchers in DNIC increased dramatically after the discovery of the fundamental role of the DNIC constituent nitrogen monoxide (NO) as one of the most universal regulators of metabolic processes occurring in living organisms. By virtue of their ability to donate NO and nitrosonium ions (NO+), DNIC mimic their beneficial (regulatory) and detrimental (cytotoxic) effects on living organisms and represent their "working" form.
This text will appeal to practitioners in the field of biology, and other areas of modern-day science.
If you want to support my blog, then you can buy a premium account through any of my files (i.e. on the download page of my book). In this case, I get a percent of sale and can continue to delight you with new books!