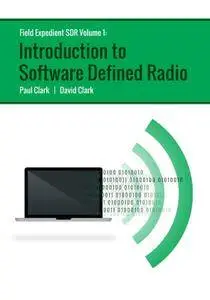 Paul Clark, David Clark, "Field Expedient SDR: Introduction to Software Defined Radio", Vol. 1, 2 ed.
Meadow Registry Pr | 2016 | ISBN: 1536814768 | English | EPUB/AZW3/MOBI/PDF | 210/172 pages | 9.7/12.2/12.2/27 MB
Software Defined Radios are revolutionizing wireless communications, but getting started can be a challenge. Much of the available SDR training veers either towards highly mathematical engineering classes or radio cookbooks with little explanation for the steps taken.

Introduction to Software Defined Radio steers between these two extremes by leveraging knowledge you already have but didn't know was applicable to radio technology. Through a series of hands-on exercises, you'll learn:
• to use gnuradio, the leading SDR software tool
• how analog signals are sampled
• when and how to use decimation and interpolation
• how filtering, tuning, and demodulating work
• how all the pieces of an SDR-based radio fit together
This first volume of our Field Expedient SDR series will take you from being a complete novice to a capable user. There will still be much to learn, but you'll be in a solid position to learn it.