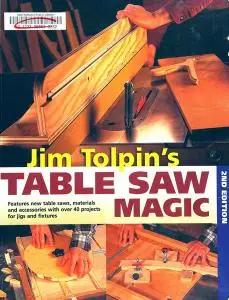 Jim Tolpin's Table Saw Magic, 2nd Edition (Popular Woodworking)
Jim Tolpin | 2003 | ISBN: 1558706771 | 194 pages | PDF | 103 MB
Do more with your saw than you ever thought possible!
The table saw is a magnificently simple machine capable of performing an incredible range of cutting tasks. In this revised and updated edition of his woodworking classic, Jim Tolpin shares his masterful techniques for using the table saw to achieve a variety of safe and accurate cuts, including ripping, crosscutting, miter cuts, grooves, dadoes, rabbets, curves, moulding, joinery and more.
You'll find ample instruction for using a variety of table saws, plus information on choosing and using accessories, maintaining your saw, and working with jigs and fixtures.
It's the most comprehensive guide available with more than 150 detailed illustrations and photos that show you how to build:
Rip and crosscut sleds for high-precision cuts
An adjustable dado-spacing fixture
A miter jig with a sliding stop
Hold-downs for the rip fence and saw table
A circle-cutting fixture
A raised panel jig with positive sliding action and integral hold-downs
A carriage-type taper jig featuring a unique guidance system
A vacuum-actuated fence for ripping thin slices
With Jim Tolpin's Table Saw magic, 2nd Edition, you'll quickly see why the table saw isn't just for ripping and crosscutting anymore.