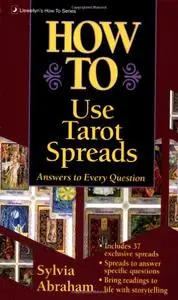 Sylvia Abraham, "How to Use Tarot Spreads"
English | 2002 | ISBN: 1567180027 | PDF | pages: 285 | 2.5 mb
To give good Tarot readings you need to be able to do three things. You have to know the meanings of the cards; understand the meaning of each position of the spread; and be able to combine those two into a logical story which answers the question. Sylvia Abraham reveals the secrets of all three in How to Use Tarot Spreads.
The book begins with instructions on how to prepare to give a reading. Next, the author gives interpretive meanings for all seventy-eight cards. If you have little or no experience with the Tarot, this will become part of your basic knowledge. If you already have your own interpretations for the cards, you can either stay with them, use the ones given here, or combine the two as you see fit.
Finally, the book includes thirty-seven Tarot spreads covering a wide variety of topics so you can give an explicit and specific reading on just about any important subject. Do you need readings for romance – finding new lovers or a soul mate? The readings are in the book. Do you want spreads to clarify family problems, marriage difficulties, or breaking bad habits? The layouts for these questions are in the book. Would you like to discover information about past lives, spirit guides, or when to take a vacation? You'll find the methods to answer those questions in this book, too. These are just some of the many spreads you'll find in How to Use Tarot Spreads.
Learning how to combine the meaning of a card with the meaning of a position in a spread can be difficult to learn. What most people need is examples of how it is done. Every spread in this book has a sample reading so you can learn how to interpret the cards within a spread. Soon, you'll be using the Tarot like a pro!