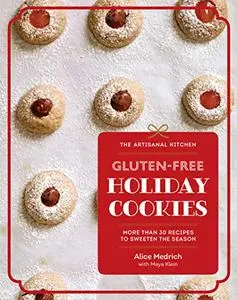 The Artisanal Kitchen: Gluten-Free Holiday Cookies: More Than 30 Recipes to Sweeten the Season by Alice Medrich
2020 | ISBN: 1579659624 | English | 112 pages | EPUB | 10 MB
Holidays are the time for baking and enjoying cookies and treats, and those with gluten sensitivities shouldn't have to miss out. Baking with flavor flours—oat flour, sorghum flour, teff, coconut flour, and nut flours, like almond and hazelnut—means that everyone can enjoy holiday treats, from the classic Chocolate Chip Cookie to the decadent Peanut Crunch Brownies. Alternative flours make these cookies and bars gluten-free. And rather than simply adding starch and structure to a dessert (as is the case with wheat flour), these flours elevate the taste of every cookie and bar too. With seasonal favorites like Quince and Orange-Filled Chestnut Cookies, Chocolate Sablés, and Brown Sugar Pecan Cookies, these recipes—adapted from Alice Medrich's Flavor Flours—make a must-have mini compendium of decadent gluten-free holiday desserts.