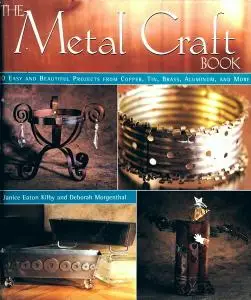 The Metal Craft Book by Janice Eaton Kilby
English | 2000 | ISBN: 1579901700 | 149 pages | PDF | 103 MB
Metal is a marvelous material, but until recently it's been a foreign currency among general crafters, who feared that "metalworking" required pig iron, a blast furnace, and the musculature of a village blacksmith. Not true. Here are 50 gorgeous things to make from extra-thin sheet metals and foils in shimmering copper, aluminum, brass, tin, and pewter. And, just for fun, there are projects from mesh, tin cans, flashing, wire, ready-made metal objects, recycled materials, and found metal. Readers will learn about useful tools and basic techniques for working with metal, none of them esoteric. They'll learn to mark, drill, cut, smooth, bend, and form metal, along with some easy ways to decorate it–hammering, punching, piercing, stamping, and embossing. They'll learn easy means of attachment, such as soldering and Pop-riveting. They'll discover how to apply paint and patinas. Then, they'll choose among 50 diverse, easy-to-make projects and proceed to create as many stunning objects as they like. Between projects, they'll browse through a gallery of beautiful metalwork by expert designer/crafters.
Buy Or Renew Premium From My Links To Support Me,
It Inspires Me To Work Better For You! Thanks!