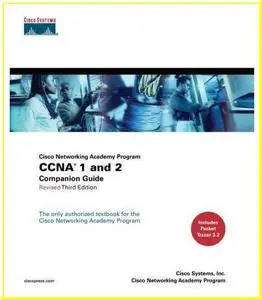 CCNA 1 and 2 Companion Guide, Revised (Cisco Networking Academy Program) (3rd Edition) (Companion Guide) by Cisco Systems Inc. (Author)
Publisher: Cisco press; 3 edition (July 29, 2004) | ISBN-10: 1587131501 | PDF | 21,7 Mb | 1088 pages
This revised and expanded edition, which has 1:1 chapter-to-online module alignment, contains many learning aids that have been redesigned to help you reinforce the material in the course, focus on important concepts, and organize your study time for exams.
— Chapter Objectives are stated as questions at the beginning of each chapter. The objectives cover only the topics that are critical to passing the certification exam. The question format encourages you to think about finding the answers as you read through the chapter's content. — Additional Topics of Interest is a new feature that indicates related information provided in the chapter that is not pertinent to pass the certification exam but would certainly be worthy to know on the job. — Key Terms are now also listed at the beginning of each chapter in order of occurrence to alert you to the technical vocabulary that you need to understand as you work through that chapter. Key terms are then highlighted at first reference and defined at the end of the corresponding chapter. At the back of this book, an extensive Glossary collects all the key terms and their definitions. — Check Your Understanding questions with an answer key help you keep track of your progress and aid studying for the assessments.
Cisco Networking Academy Program CCNA 1 and 2 Companion Guide, Revised Third Edition, is the Cisco approved textbook to use alongside version 3.1 of the Cisco Networking Academy Program CCNA 1 and CCNA 2 web-based courses. The topics covered provide you with the necessary knowledge to begin your preparation for the CCNA certification exam (640-801, or 640-821 and 640-811) and to enter the field of network administration.
As in the courses, the CCNA 1 section covers networking basics, including the basics of Ethernet technologies, TCP/IP, network media, IP addressing, and routing. The CCNA 2 section covers routers and routing basics, including the basics of configuring routers, routing protocols, more TCP/IP concepts, access control lists, and networking troubleshooting skills.
Use this Companion Guide as a portable desk reference to access the information for study and review at any time!
Download from Depositfiles.com
or
Download from Rapidshare.com