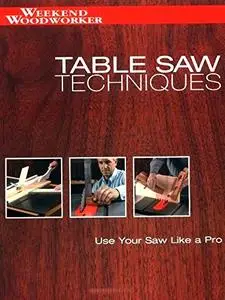 Table Saw Techniques: Use Your Saw Like a Pro
Editors of Weekend Woodworker | 2003 | ISBN: 1589230973 | 146 pages | PDF | 102 MB
A table saw is the first stationary power tool purchased for many home workshops and one of the most versatile tools for wood working. Table Saw Techniques is a comprehensive guide to choosing the right table saw and using it in a safe and professional manner. This book covers basic ripping and crosscutting techniques in addition to more advanced joinery cuts.
In-depth explanations and hundreds of full color photos provide step-by-step instructions for purchasing a used saw, setting up the saw, changing blades, using safety equipment, and operating the saw like a seasoned carpenter. The book shows how to orient the table saw in a workshop for efficient workflow.
Table Saw Techniques includes an introduction to table saws, safety precautions, tuning the saw, and the many uses of table saws. The family of table saws is also featured, including benchtop saws, contractor's saws, cabinet saws, hybrid saws, and multipurpose machines. Traditional cuts are detailed in the book as are dado and rabbet joint variations, tongue and groove joints, cutting coves and moldings, and kerf-cutting.