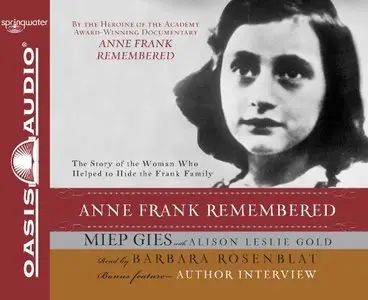 Anne Frank Remembered (Audiobook) By Miep Gies, Alison Leslie Gold, read by Barbara Rosenblat
Publisher: O.A.S.I.S audio; Unabridged edition 2009 | 9 hours and 12 mins | ISBN: 1598595237 | MP3 | 220 MB
Gies, now 78, recalls how during WW II she, her husband and some of her coworkers sheltered her boss Otto Frank, his family and several other Jews in a secret annex of their Amsterdam office building. Unfortunately, California freelance writer Gold's lackluster rendition contrasts sharply with the spirited, penetrating journal kept by Anne Frank, which Gies secreted from the Nazis and which later was published as Anne Frank: The Diary of a Young Girl. In Gold's disappointing retelling, Gies proves to be an intensely private person and frugal with words, many of whose observations are hindsights ("I knew that . . . Anne's diary had become her life") or dwell on externals like Anne's blossoming figure. Nevertheless, Gies's sincerity, humility and courage emerge from this simple testimony and will not fail to inspire readers.
!!!No Mirrors below, please! Follow Rules!