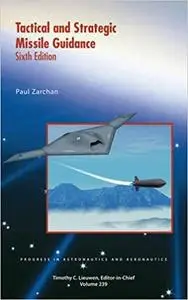 Paul Zarchan, "Tactical and Strategic Missile Guidance Ed 6"
English | ISBN: 1600868940 | 2013 | 1026 pages | PDF | 26 MB
This best-selling title provides an in-depth look into tactical and strategic missile guidance, considering proven guidance methods from various points of view. The sixth edition includes six new chapters on topics related to improving missile guidance system performance and understanding key design concepts and tradeoffs. In addition, the original FORTRAN source code has now been converted into the widely used MATLAB programming language. The book aims to lay the foundation for meeting today's new challenges facing guidance engineers. In this latest edition, the new chapters feature: two new applications of the method of adjoints for mixed continuous-discrete systems, and a new guidance law that can be used to shape the interceptor trajectory against a stationary target. Also considered is both the problem of finding the minimum achievable miss distance of a radar homing missile and exploring practical techniques that can be used to achieve the minimum possible miss. It includes: an introduction of the differential game guidance law with bounded controls and a demonstration of its performance improvements over conventional guidance laws under challenging conditions; techniques for graphically presenting strategic information on successful intercepts of an impulsive ballistic target being pursued by an impulsive interceptor; and an examination of two filtering options for the boost-phase intercept of a strategic target. It offers a look into some of the guidance and control issues involved in enabling an air-launched interceptor carrying a highly maneuverable kinetic kill vehicle to perform an exoatmospheric intercept of a boosting threat target that is capable of traveling many thousands of kilometers. With numerous new examples and easy-to-understand graphs and explanations, "Tactical and Strategic Missile Guidance" is an indispensable guide for both the expert and the novice.