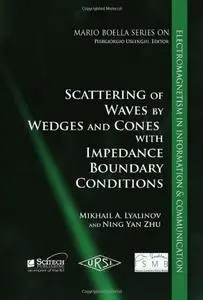 Scattering of Waves by Wedges and Cones With Impedance Boundary Conditions by Mikhail A. Lyalinov
English | 2013 | ISBN-10: 161353003X | 232 pages | PDF | 7 MB
This book is a systematic and detailed exposition of different analytical techniques used in studying two of the canonical problems, the wave scattering by wedges or cones with impedance boundary conditions. It is the first reference on novel, highly efficient analytical-numerical approaches for wave diffraction by impedance wedges or cones. The applicability of the reported solution procedures and formulae to existing software packages designed for real-world high-frequency problems encountered in antenna, wave propagation, and radar cross section.
My nickname -
interes