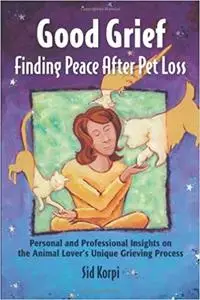 Sid Korpi, "Good Grief: Finding Peace After Pet Loss"
English | 2019 | ISBN: 161539981X | 317 pages | PDF | 13.7 MB
Author Sid Korpi explains, "The pain of losing a beloved animal companion is unlike any other. However, because our society on the whole discounts our grief as frivolous since we've "merely lost an animal," too many of us feel we must keep silent in our anguish or be labeled somehow defective. Good Grief: Finding Peace After Pet Loss ends the misperception that we must suffer in solitary confinement and thus prolong, or stay permanently stuck in, our grief. The book melds the author's personal perspectives, as both a pet lover and animal chaplain, and astounding stories with those of professionals (such as veterinarians, animal communicators, and religious leaders) and other animal lovers the world over to help you make the pet-grieving process as positive as possible.