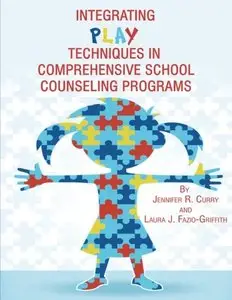 Integrating Play Techniques in Comprehensive School Counseling Programs by Jennifer Curry and Laura Fazio-Griffith
English | 2013 | ISBN: 1623963044, 1623963052 | 398 pages | PDF | 5 MB
Play therapy interventions are critical elements of providing responsive services within the context of comprehensive school counseling programs. However, many school counselors are not trained in the use of play therapy techniques during their graduate training programs as Play Therapy is not a required course based on standards set by the Council for Accreditation of Counseling and Related Education Programs (CACREP) (2009). Indeed, while there are over 400 school counseling programs in the U. S., there are only 11 certified play therapy training centers. Even more critically, school counselors may not know which play therapy approaches and interventions are evidence-based for specific childhood concerns (e. g., selective mutism, social skills deficits, parent deployment). Play therapy is a structured, theoretically-based approach to counseling that builds on the normal communicative and learning processes of children as they may not have developed the complexities of language to accurately express their concerns (Carmichael, 2006; Gil, 1991; Landreth, 2002; O'Connor & Schaefer, 1983). Further, children who are most in crisis may be the ones who need play concepts integrated in counseling; yet, many school counselors are unprepared to provide these vital resources. The focus of this book is on various play techniques and the application of various play therapy theories (i. e., Child Centered Play Therapy, Solution Focused Play Therapy, Cognitive Behavioral Play Therapy) within comprehensive school counseling programs, addressing various childhood concerns, prevention and intervention. Each chapter offers vignettes, a literature review of a specific childhood concern (e.g., homelessness, separation anxiety), pragmatic interventions for the school environment, and a case study to demonstrate application of techniques.
My nickname -
interes