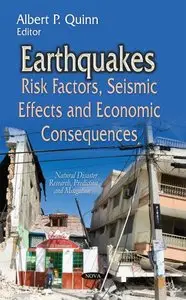 Earthquakes: Risk Factors, Seismic Effects and Economic Consequences (Natural Disaster Research, Prediction and Mitigation) by Albert P. Quinn
English | 2014 | ISBN: 1631175173 | 237 pages | PDF | 9,5 MB
An earthquake is a natural disaster that causes damage worldwide. Not only earthquakes of high magnitude, but also those of small magnitude that strike unprepared regions can cause economic and social consequences, and many casualties. Unlike other natural disasters, the exact time of an earthquake cannot be estimated; scientists can only predict the timeline and magnitude based on the history of earthquakes in a region. Even though current technology cannot predict the precise time, location or magnitude, public awareness about the estimations allows both individuals and government to be ready for their devastating effects. This book begins by discussing how public awareness about the effects of earthquakes and how to prepare for a possible earthquake which can potentially save lives. The book then continues with topics that include seismic PRA; seismic safety assessments of existing buildings; psychiatric reactions of individuals to earthquakes; possible relation between an intense earthquake and the voltage signal generated by atmospheric ionic currents and/or suddent change of the electric field in the air; and others.
My nickname -
interes