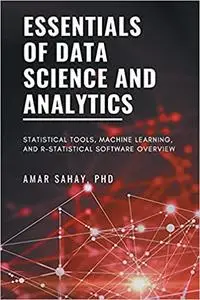 Essentials of Data Science and Analytics: Statistical Tools, Machine Learning, and R-Statistical Software Overview by Amar Sahay and Don Stengel
English | Jul 6, 2021 | ISBN: 1631573454 | 484 pages | PDF | 36 MB
This text provides a comprehensive overview of Data Science.
With the continued advancement in storage and computing technologies, data science has emerged as one of the most desired fields in driving business decisions. Data science employs techniques and methods from many other fields, such as statistics, mathematics, computer science, and information science. Besides the methods and theories drawn from several fields, data science uses visualization techniques using specially designed big data software and statistical programming language, such as R programming, and Python. Data Science has wide applications in the areas of Machine Learning (ML) and Artificial Intelligence (AI).
The book is divided into four different areas divided into different chapters. These chapters explain the core of Data Science. Part I of the book introduces the field of Data Science, different disciplines it comprises of, and the scope with future outlook and career prospects. This section also explains analytics, business analytics, and business intelligence and their similarities and differences with Data Science. Since the data is at the core of Data science, Part II is devoted to explaining the data, big data, and other features of data. One full chapter is devoted to Data Analysis, creating visuals, pivot table, and other applications using Excel with office 365. Part III explains the statistics behind Data Science. It uses several chapters to explain the statistics and its importance, numerical and data visualization tools and methods, probability, and probability distribution applications in Data Science. Other chapters in the Part III are Sampling, Estimation, and Hypothesis Testing. All these are integral part of Data Science applications. Part IV of the book provides the basics of Machine Learning (ML) and R-statistical software.
Data Science has wide applications in the areas of Machine Learning (ML) and Artificial Intelligence (AI) and R-statistical software is widely used by data science professionals. The book also outlines a brief history, the body of knowledge, skills and education requirements for Data Scientist and data science professionals. Some statistics on job growth and prospects are also summarized. A career in data science is ranked at the third best job in America for 2020 by Glassdoor, and was ranked the number one best job from 2016-2019.