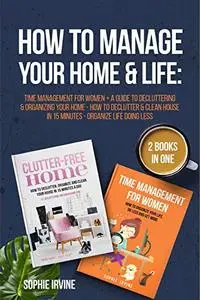 How to Manage Your Home & Life: 2 Books in 1: Time Management for Women + A Guide to Decluttering and Organizing Your Home - How to Declutter & Clean House in 15 Minutes - Organize Life Doing Less by Sophie Irvine
2019 | ISBN: 1671156218 | English | 288 pages | EPUB | 0.3 MB
Do you feel overwhelmed? Are you swamped and exhausted by all you strive to do, ending most days feeling unsatisfied and unsuccessful? Do you feel bogged down by all the clutter in your home and want to make your space better?
If you struggling to find time for the things, and people, you love… If you want to be loved, successful and less stressed… then keep reading…
This book is going to help you, regardless of whether you have children and you want to start working, you want to begin a business from home, or whether you are literally at your limit and need a solution now.
We are going to put strategy "Do Less, Get More" into place so that you can see a difference in a matter of days, working towards your perfect life balance in just two weeks. Together, we will work towards doing less and getting more without having to make any sacrifices.
This book has covered a number of ways that you can start making small steps in order to achieve great results that will last.
Here Is A Preview Of What You'll Learn:
How to Save Hours of Your Time, Using Just 1 Powerful Trick.
Boosting Your Productivity - the Best Time and Energy Management Tips for Busy Women.
How to Create a Home System with Clear Roles and Clear Expectations.
How to Create Your Dream Relationship Even If You Have a Busy Day.
The 3Fs Rule — One Powerful Strategy That Makes You Feel Happy Every Day.
+ Plus as a bonus, you'll also get "How to Declutter, Organize and Clean Your Home in 15 Minutes a Day" to help you to confront the clutter, take care of it, and create a cleaner, more beautiful home than ever before.
In "How to Declutter, Organize and Clean Your Home 15 Minutes a Day" you'll discover:
The Room-By-Room Guide to Decluttering Your Home.
How to Keep the Clutter Away in Just 10 Minutes, Using the KISS Strategy.
Do Less, Live More - 41 Simple and Most Effective Decluttering, Organizing and Cleaning Tricks.
The 15-Minute Cleaning Strategy — How to Clean Your Home in Just 15 Minutes!
Yes, this is a decluttering book for the busy people in all of us, a set of solutions that will tell you immediately how to go about managing your space and life, so you're happy, and you don't feel overwhelmed anymore.