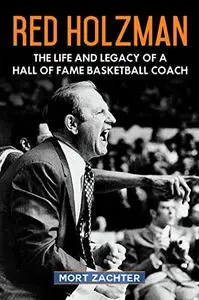 Red Holzman: The Life and Legacy of a Hall of Fame Basketball Coach by Mort Zachter
September 3, 2019 | ISBN: 1683582888 | English | 320 pages | EPUB | 11 MB
The Definitive Biography of a Coaching Legend
Hanging high atop the world's most famous arena, Madison Square Garden, is the name "Holzman" and the number "613." That is the total number of wins by former New York Knicks head coach Red Holzman, which is the most in franchise history. While he spent six years as a player and another six as an executive, he's most famous for his time at the helm of the Knickerbockers, where he led the team to their only two championships: the first in 1969–70 and the second in 1972–73. He coached the team for fourteen seasons during his illustrious career, was named one of the top ten coaches in NBA history, and was elected to the Basketball Hall of Fame in 1986. Former MSG president Dave Checketts once said, "Red was the finest human being I've ever known."
But not much is known about the soft-spoken and private Holzman, as he was the type of person to downplay his own accomplishments.
In Red Holzman: The Life and Legacy of a Hall of Fame Basketball Coach, author Mort Zachter has taken on the challenge of sharing this coach's incredible story. From humble beginnings as the son of immigrant parents growing up in Brooklyn, Holzman paved a path of excellence at every level. From his time in the Navy to breaking into the NBA and his rise through the coaching channels, author Zachter leaves no stone unturned.
With interviews with those who played with, against, and for Red, including Bill Bradley, Phil Jackson, Bob Cousy, and Walt "Clyde" Frazier to name a few, the life of a basketball pioneer—one that has since been held quiet—is shared for the first time.