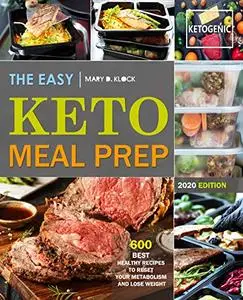 The Easy Keto Meal Prep: 600 Best Healthy Recipes to Reset Your Metabolism and Lose Weight by Mary D. Klock
2019 | ISBN: 1708392009 | ASIN: B081F12CDJ | English | 320 pages | EPUB + AZW3 | 0.5 + 0.8 MB
Heal Your Metabolism to Lose Up to 20 Pounds in 30 Days
A keto diet is a low-carb, high-fat diet that can help you burn fat more effectively!It has many benefits for weight loss, health and performance, A keto diet can be especially useful for losing excess body fat without hunger, and for reversing type 2 diabetes.
The Essential Keto Cookbook includes:
300 keto Recipes + 300 best Recipes:
My Top 8 Keto Recipes
No-fuss Brunch and Dinner recipes to keep ''cheating''
Energizing Bread and Breakfasts
Great Meatless and Vegetarian recipes
Great variety of Soups, Stews and Salads
Fascinating Keto Desserts & Condiments
Lots of protein recipes - Poultry, Meat, Fish & Seafood
Craveable Side Dishes & Snacks
Easy meets yummy meets healthy in this keto diet book. Start losing weight and gaining a healthy lifestyle today.