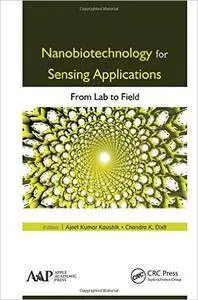 Nanobiotechnology for Sensing Applications: From Lab to Field by Ajeet Kumar Kaushik and Chandra K. Dixit
English | 2016 | ISBN: 1771883286 | 386 pages | PDF | 37,4 MB
This book explores the potential of nanosystems as a multidisciplinary science with the aim of the design and development of smart sensing technologies using micro/nano electrodes and novel nanosensing material. It discusses their integration with MEMS, miniaturized transduction systems, novel sensing strategies, and wearable sensors performing at POC for diagnostics and personalized health care monitoring. It presents basic concepts pertaining to nanobiosensor fabrication, developments in the field of smart nanomaterials, nano-enabling technologies, micro-nano hybrind platforms, and their applications in healthcare.