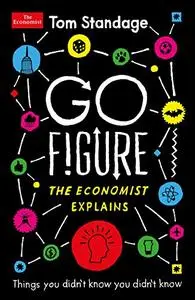 Tom Standage, "Go Figure: Things you didn't know you didn't know: The Economist Explains"
English | 2016 | pages: 249 | ISBN: 178125625X | EPUB | 9,5 mb
The aim of this book is to provide an entertaining assortment of both Rumsfeldian and Socratic unknowns, in the form of explanations and visualisations from The Economist: a selection of articles from our explainer blog, "The Economist explains", and graphs, maps and charts from our data blog, "Graphic detail". The Rumsfeldian unknowns are things you didn't know you didn't know: Why does Sweden have so few road deaths? How can a baby have three parents? Why do so many death-row inmates die of old age? The Socratic ones include things you've probably quietly wondered about, but have not yet got around to Googling: How do hurricanes get their names? What's the difference between Sunni and Shia Muslims? What's the difference between a dialect and a language? In keeping with The Economist's comparative, global and data-driven view of the world, we also consider things some countries do differently (Why are so many adults adopted in Japan?), economic curiosities (Why are prostitutes lowering their prices?), leisure-related oddities (Why do people like pizzas in a recession?), technological teasers (How has technology made fashion week passé?) and scientific peculiarities (How do you search for time travellers?).
No doubt you will already know the answers to some of these questions. But we hope every reader will experience unanticipated lightbulb moments and enjoy unforeseen illumination. You know that mind-stretching feeling you get when you learn something new and expected? That's what we aim to deliver each week in The Economist, and the same is true of this book. We hope you will enjoy taking a journey, or at least a few brief excursions, into the unknowns – both known and unknown.
My Link