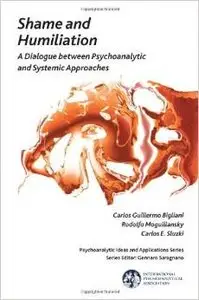 Shame and Humiliation: A Dialogue between Psychoanalytic and Systemic Approaches by Carlos Guillermo Bigliani and Rodolfo Moguillansky
English | 2013 | ISBN: 1782200290 | 202 pages | PDF | 1 MB
Shame and Humiliation explores a sub-set of universal emotions that are usually labeled as "negative" because of the sense of unease that they generate when we experience them and the tenacity with which we try to avoid them.
Shame and humiliation are therefore two key emotions that can cause deep suffering, as well as contribute to orient our social life. Some of the noblest and the most villainous acts are fueled by these emotions, from self-sacrifice to bloody revenge. The psychodynamics and the display in the relational world of these emotions are the subject of this book, which offers a friendly conversation between both disciplines through the discussions of the text of each author by the other two. Enlightening clinical cases and vignettes show destinies, transformations, and the manifestations in social and individual situations of both shame and humiliation.
My nickname -
interes