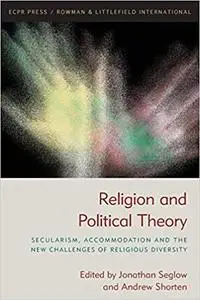 Jonathan Seglow, Andrew Shorten, "Religion and Political Theory: Secularism, Accommodation and The New Challenges of Religious Diversity"
English | ISBN: 1785523155 | 2019 | 210 pages | PDF | 1385 KB
Religion and religious diversity now occupy a central place in several prominent debates in contemporary political theory, such as those concerning the meaning(s) and relevance of secularism, the place of religious reasons in political deliberation, and whether religious beliefs and practices deserve special treatment by laws and public institutions. That religion has once again become a divisive topic amongst political theorists is perhaps surprising, given the widespread consensus about such staples of liberal political morality as the separation of church and state and the principle of religious freedom.
Featuring the work of both established and up-and-coming scholars, this collection will take stock of the recent turn towards religion in political theory, identify some of the major unresolved challenges and issues, and suggest new avenues for theoretical inquiry. Taken as a whole, the collection showcases some cutting-edge work by leading scholars of religion and political theory and demonstrates the vitality of religion and political theory as a research agenda.