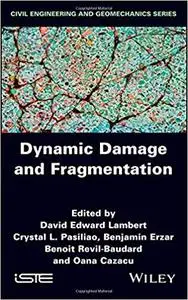 David Edward Lambert and Crystal L. Pasiliao, "Dynamic Damage and Fragmentation"
English | ISBN: 1786304082 | 2019 | 462 pages | PDF | 33 MB
Engineering structures may be subjected to extreme high-rate loading conditions, like those associated with natural disasters (earthquakes, tsunamis, rock falls, etc.) or those of anthropic origin (impacts, fluid-structure interactions, shock wave transmissions, etc.). Characterization and modeling of the mechanical behavior of materials under these environments is important in predicting the response of structures and improving designs. This book gathers contributions by eminent researchers in academia and government research laboratories on the latest advances in the understanding of the dynamic process of damage, cracking and fragmentation. It allows the reader to develop an understanding of the key features of the dynamic mechanical behavior of brittle (e.g. granular and cementitious), heterogeneous (e.g. energetic) and ductile (e.g. metallic) materials.