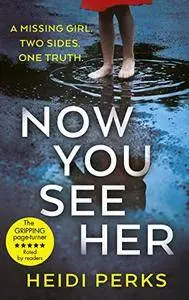 Now You See Her: The compulsive thriller you need to read by Heidi Perks
English | 18 Apr. 2019 | ISBN: 1787460770 | 400 Pages | EPUB | 483.89 KB
She was your responsibility. And now she's missing.
'A gripping tale of friendship and deceit, where nothing is what it seems' – Laura Marshall, bestselling author of FRIEND REQUEST
____________________________
Charlotte is looking after her best friend's daughter the day she disappears. She thought the little girl was playing with her own children. She swears she only took her eyes off them for a second.
Now, Charlotte must do the unthinkable: tell her best friend Harriet that her only child is missing. The child she was meant to be watching.
Devastated, Harriet can no longer bear to see Charlotte. No one could expect her to trust her friend again.
Only now she needs to. Because two weeks later Harriet and Charlotte are both being questioned separately by the police. And secrets are about to surface.
Someone is hiding the truth about what really happened to Alice.
Unputdownable psychological suspense from an exciting new talent, perfect for fans of Shari Lapena's THE COUPLE NEXT DOOR and Claire Mackintosh's I LET YOU GO.
____________________________
What everyone's saying:
'Totally hooked from the first page. Such an accomplished thriller!' Amy Lloyd, author of The Innocent Wife
'I couldn't turn the pages fast enough' - Lynn on Goodreads, 5 stars
'Absolutely brilliant. Couldn't put this book down. Right from the very start you are gripped' - Lindsey on NetGalley, 5 stars
'A chilling tale of friendships, deceit, manipulation and secrets that had me hooked in from the very first page.' - Nicki on Goodreads, 5 stars
'such a gripping story that I read the rest of the book in one sitting. I just had to know what was going to happen' - Lynn on Goodreads, 5 stars
'I read this book in one tension-filled evening and couldn't go to bed until I knew how it ended.' - Jenny Blackhurst, author of The Foster Child and How I Lost You
'An intense, chilling read that kept me gripped throughout' - Shirley on Goodreads, 5 stars
'Loved the female friendships and the constant twists and turns – a definite must-read for summer!' - Hollie Overton, author of Baby Doll and The Walls
'Heidi Perks writes with an instinctive knowledge of how to keep the reader enthralled' - Liz on Goodreads
'This is a taut thriller that reads like a TV drama in-the-making. It'll make you wary of those around you, past and present.' - Gem on Goodreads
'Brilliant book to have for summer reading' - Melita on Goodreads, 5 stars