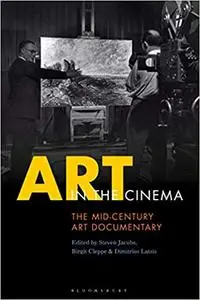 Art in the Cinema: The Mid-Century Art Documentary by Steven Jacobs, Birgit Cleppe
English | Oct 15, 2020 | ISBN: 1788313674 | 256 pages | PDF | 3 MB
In the 1940s and 1950s, hundreds of art documentaries were produced, many of them being highly personal, poetic, reflexive and experimental films that offer a thrilling cinematic experience. With the exception of Alain Resnais's Van Gogh (1948), Henri-Georges Clouzot's Le Mystère Picasso (1956) and a few others, most of them have received only scant scholarly attention. This book aims to rectify this situation by discussing the most lyrical, experimental and influential post-war art documentaries, connecting them to contemporaneous museological developments and Euro-American cultural and political relationships. With contributors with expertise across art history and film studies, Art in the Cinema draws attention to film projects by André Bazin, Ilya Bolotowsky, Paul Haesaerts, Carlo Ragghianti, John Read, Dudley Shaw Aston, Henri Storck and Willard Van Dyke among others.
My nickname -
interes