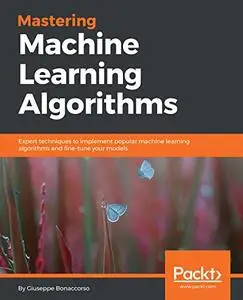 Mastering Machine Learning Algorithms:
Expert techniques to implement popular machine learning algorithms and fine-tune your models
by Giuseppe Bonaccorso
English | 2018 | ISBN: 1788621115 | 576 Pages | PDF true | 65 MB
Explore and master the most important algorithms for solving complex machine learning problems.
Key Features
Discover high-performing machine learning algorithms and understand how they work in depth.
One-stop solution to mastering supervised, unsupervised, and semi-supervised machine learning algorithms and their implementation.
Master concepts related to algorithm tuning, parameter optimization, and more
Book Description
Machine learning is a subset of AI that aims to make modern-day computer systems smarter and more intelligent. The real power of machine learning resides in its algorithms, which make even the most difficult things capable of being handled by machines. However, with the advancement in the technology and requirements of data, machines will have to be smarter than they are today to meet the overwhelming data needs; mastering these algorithms and using them optimally is the need of the hour.