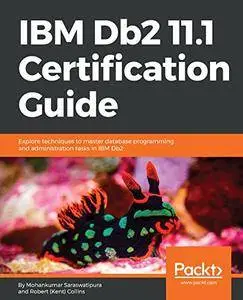 IBM Db2 11.1 Certification Guide: Explore techniques to master database programming and administration tasks in IBM Db2 by Mohankumar Saraswatipura
English | 28 Jun. 2018 | ISBN: 1788626915 | 478 Pages | EPUB | 3.47 MB
Mastering material for dealing with DBA certification exams
Key Features
Prepare yourself for the IBM C2090-600 certification exam
Cover over 50 Db2 procedures including database design, performance, and security
Work through over 150 Q&As to gain confidence on each topic
Book Description
IBM Db2 is a relational database management system (RDBMS) that helps you store, analyze, and retrieve data efficiently. This comprehensive book is designed to help you master all aspects of IBM Db2 database administration and prepare you to take and pass IBM's Certification Exams C2090-600. Building on years of extensive experience, the authors take you through all areas covered by the test. The book delves deep into each certification topic: Db2 server management, physical design, business rules implementation, activity monitoring, utilities, high availability, and security. IBM Db2 11.1 Certification Guide provides you with more than 150 practice questions and answers, simulating real certification examination questions. Each chapter includes an extensive set of practice questions along with carefully explained answers.
This book will not just prepare you for the C2090-600 exam but also help you troubleshoot day-to-day database administration challenges.
What you will learn
Configure and manage Db2 servers, instances, and databases
Implement Db2 BLU Acceleration and a DB2 pureScale environment
Create, manage, and alter Db2 database objects
Use the partitioning capabilities available within Db2
Enforce constraint checking with the SET INTEGRITY command
Utilize the Db2 problem determination (db2pd) and dsmtop tools
Configure and manage HADR
Understand how to encrypt data in transit and at rest
Who This Book Is For
The IBM Db2 11.1 Certification Guide is an excellent choice for database administrators, architects, and application developers who are keen to obtain certification in Db2. Basic understanding of Db2 is expected in order to get the most out of this guide.
Table of Contents
Introduction to the Db2 Certification Path
Db2 Server Management
Physical Design
Implementing Business Rules
Monitoring Db2 Activity
Db2 Utilities
High Availability
Db2 Security