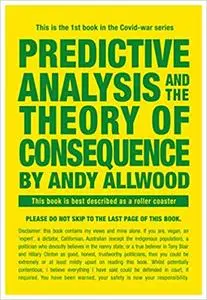 Predictive Analysis and the Theory of Consequence
English | 2021 | ISBN: 1839522542 | 105 Pages | True EPUB | 6 MB
This book is the first of three in the Covid-war series. It is a factual account timelined and written as a diary of events of the Covid-19 pandemic of 2020 to 2021 written by Andy Allwood, a retired fireman of 31 years and an observer of life on this planet. It combines tongue-in-cheek humour, factual evidence, fictional stories, observations of human behaviour, historical insight, the theory of predictive analysis, the theory of consequence and many other items close to his heart.