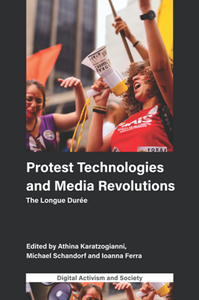 Protest Technologies and Media Revolutions : The Longue Duree
by Athina Karatzogianni, Michael Schandorf
English | 2021 | ISBN: 1839826479 | 313 Pages | ePUB | 10 MB
Protest Technologies and Media Revolutions portrays the critical role of mass connection in the success of any movement, resurrection, protest, and revolution.
The communication mechanisms for this connection have, at times, evolved and elsewhere undergone revolutions of their own. Authors debate this relationship, and the strategies and lessons of 'connecting to the masses' considering the development of media, technology and communication strategies over the last century. Key topics covered include revolution, communication, protest and technology, spanning from the Russian Revolution to the present day.
The discussion is not limited to historic cases of technology and revolution, nor to contemporary ones. The book, therefore, generates a debate about how art, media and communication technologies have been operationalized to connect, mobilize and organize, in different historical times, and in diverse national, political, and socio-economic contexts.
If you want to support my blog, then you can buy a premium account through any of my files (i.e. on the download page of my book). In this case, I get a percent of sale and can continue to delight you with new books!