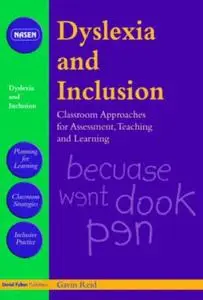 Gavin Reid, "Dyslexia and Inclusion: Classroom approaches for assessment, teaching and learning"
2006 | pages: 113 | ISBN: 1843123614 | PDF | 0,8 mb
This book provides the teacher with an understanding of dyslexia and offers practical approaches that can be used for assessment, teaching and learning. The book aims to highlight how the needs of children with dyslexia can be met within the curriculum and within the mainstream classroom. The key theme of the book is inclusion and suggests that intervention for dyslexic children should focus on the barriers to learning, and the most prominent of these may be aspects of the curriculum and how the curriculum is presented.
By understanding crucial aspects of dyslexia, teachers can be pro-active and anticipate the type of difficulties that can be experienced. The book also discusses appropriate use of resources, differentiation and learning styles. The book covers:
- understanding and identifying dyslexia
- teaching and learning approaches and classroom strategies
- curriculum perspectives and planning for learning
- dyslexia and inclusion.
My Link