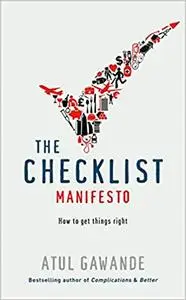 Gawande Atul, "Checklist Manifesto How to Get Things Right"
2010 | pages: 223 | ISBN: 1846683130 | PDF | 3,8 mb
The bestselling author of "Better" and "Complications" explores the significance of the lowly checklist, and how it has revolutionised medical practice and saved lives. Today we find ourselves in possession of stupendous know-how, which we willingly place in the hands of the most highly skilled and hardworking people. Yet avoidable failures are common, and the reason is simple: the volume and complexity of our knowledge has exceeded our ability to consistently deliver it to people - correctly, safely or efficiently. Atul Gawande makes a compelling argument for the checklist, which he believes to be the most promising strategy in surmounting failure. He looks at how the checklist has allowed pilots to fly airplanes with more power and range than possible before; and how taking this idea to the complicated world of surgery produced a 90-second checklist that reduced surgical deaths and complications in eight hospitals around the world by more than one-third. Along the way, he will show how checklists (which cost next to nothing) actually work, and why some make matters worse while others make matters better. "The Checklist Manifesto" is a fascinating exploration on the nature of complexity in our lives - and how we can best overcome it.
My Link