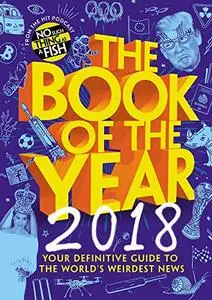 The Book of the Year 2018 by No Such Thing as a Fish
2019 | ISBN: 1847948391 | English | 320 pages | EPUB/AZW3 | 10 MB/11 MB
Following hot on the heels of the success of The Book of the Year (or, more precisely, 12 months later), The Book of the Year 2018 will be making its way into the nation's bookshops this autumn. Compiled and written by the creators of the award-winning hit comedy podcast No Such Thing As A Fish, all of whom are researchers for QI, The Book of the Year 2018 will bravely delve behind the headlines to sniff out the best and most bizarre facts of the last 12 months. Among many other things, it will establish that:
· Britain's first robot shop assistant was sacked after a week.
· Donald Trump claimed the US sells F52 planes to Norway, even though F52 planes only exist in the game Call of Duty.
· During the Winter Olympics, it was so windy during the Women's Slopestyle Final that every single competitor was blown off her snowboard.
· A snail racing competition in Plymouth was postponed because the snails were too "sluggish" to take part.
Ranging from the distinctly offbeat to the wonderfully ludicrous—from the South Africans who were rationed to just one toilet flush per day, to the Nutella riots spreading across France, via the Miami bitcoin conference that stopped accepting bitcoin—The Book of the Year promises a fact for every occasion and will prove the perfect Christmas gift for all trivia buffs.