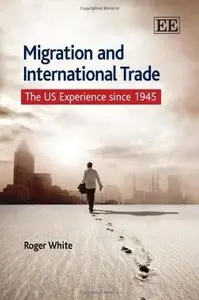 Roger White, "Migration and International Trade"
Edward Elgar Publishing | ISBN: 1848446969 | 2010 | PDF | 233 pages | 1,2 mb
This unique book synthesizes and extends the immigrant-trade literature and provides comprehensive coverage of this timely and important topic. In that vein, the author contributes to the understanding of the relationship between immigration and trade and sheds light on a noteworthy aspect of globalization that both confronts policymakers with challenges and offers the potential to overcome them. Roger White documents the pro-trade influences that immigrants have on US imports from, and exports to, their respective home countries. Variations in the immigrant-trade link are addressed, as are the underlying factors that may determine the existence and operability of that link. The findings have direct implications for US immigration policy, suggesting that too few immigrants are currently admitted to the country and that a more liberal immigration policy may enhance social welfare. This book contains valuable economic analyses for undergraduates, postgraduates, researchers, educated laypersons and practitioners who are interested in public policy, international trade and economics, migration studies, international relations and globalization.
Note 1
: If you can not open the downloaded file, and your Adobe Reader reports on the damaged file, then
update
your Adobe Reader. Lastest version of Adobe Reader opens this book perfectly.
Note 2
: Links not work? Send me
PM
and I'll try to help you.