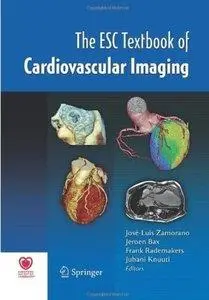 Jose Luis Zamorano and Jeroen J. Bax, "The ESC Textbook of Cardiovascular Imaging"
English | 2010 | ISBN: 1848824203 | PDF | 568 pages | 64 MB
"The ESC Textbook of Cardiovascular Imaging" is a comprehensive guide to all forms of cardiovascular imaging. A disease based approach is followed and the book is comprised of 8 sections. Section 1 describes the imaging techniques available and Sections 2-8 describe the imaging modalities used to visualise cardiovascular diseases in seven main areas. Each section is subdivided into 2-7 chapters. The book is edited by four European opinion leaders in the fields of echocardiography, nuclear, CMR and CT imaging and has over 50 contributors, mainly from Europe. The printed version is complemented by a basic online version, accessible by means of a password, distributed with the book. The online version allows users to: download chapters for ease of use; provide links from all references to PubMed; allow searching of the text; and download figures and images for non-commercial use in PowerPoint presentations.