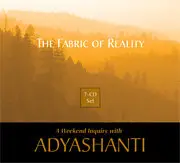 The Fabric of Reality (Weekend Intensive with Adyashanti) by Adyashanti (Author), SteveKurtz (Photographer)
Publisher: Open Gate Publishing; 1st Edition edition (2006) | ISBN: 1933986131 | Language English | Audio CD in MP3/ 128Kbps | 150 MB
The Fabric of Reality is a 7-CD Album recorded live in San Rafael, CA. It offers a profound and intimate investigation into the freedom of spiritual awakening. Included are satsang talks, questions from the audience, and powerful direct inquiry dialogues.
"Universal consciousness is the underlying fabric of reality. All that comes into manifestation arises as an expression of this formless fabric, in the same manner in which dreams arise and express the unconscious mind. During this intensive we will explore some of the startling and unexpected ways the fabric of consciousness works to create the world and your experience of it." ~ Adyashanti
Thanks to original uploader!


<span style="color:#0000ff"><u>Download from <br />FileSonic</u></span>
<span style="color:#cc0000"><u>or DepositFiles</u></span>
<span style="color:#006600"><u>orWupLoad</u></span>
>>:: NO PASSWORD ::<<
>>::..::!!!NO MIRRORS!!!::..::<<