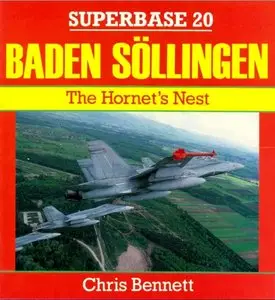 Baden Sollingen: The Hornet's Nest (Superbase 20) By Chris Bennett
Publisher: Osprey Publishing 1991 | 128 Pages | ISBN: 1855321149 | PDF | 18 MB
Canadian Forces Base Baden Sollingen nestles in the shade of the Black Forest near the famous spa and casino town of Baden Baden in Germany. Under Canadian jurisdiction since 1953, the 'Kanadische Flugplatz1 is home to the happy aviators and ground crews of the 1st Canadian Air Division (1 CAD), and its three constituent Tactical Fighter Squadrons: No 409 'Nighthawks' (blue squadron), No 421 'Red Indians' (red squadron) and No 439 'Sabre Toothed Tigers' (yellow squadron). The 1st Canadian Air Division is responsible for the Canadian Armed Forces' principal contribution to NATO Allied Air Forces Central Europe, and all three CF-18 squadrons are tasked with both air superiority and ground attack roles. The pilots of 1CAD have built a considerable reputation within NATO for the way in which they exploit the hi-tech capabilities of the McDonnell Douglas CF-18. A tour of duty on the CF-18 at CFB Baden Sollingen is generally recognized as being the plum posting for a fighter pilot in the Canadian Armed Forces (Air). Once there, the 'scam' is to find a legitimate reason to extend your stay. But few seem to succeed, as there is always a regular turn-around of name tags and personalized bier steins in the Officers' Mess. All the personnel in 1 CAD are keenly aware of their deterrent role within NATO and let everyone know that there are no points for second place. Equipped with what they consider to be the best jet in town, 1CAD continues a proud Canadian fighting tradition. This book is dedicated to the memory of Captain Kirk Leuty of No 439 TFS, whose life was snatched away during an airborne incident in April 1990. His tragic loss will long be remembered at CFB Baden Sollingen.
NO PASSWORD



!!!No Mirrors below, please! Follow Rules!