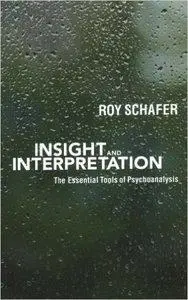 Roy Schafer, "Insight and Interpretation: The Essential Tools of Psychoanalysis"
2003 | ISBN-10: 1855753057 | 184 pages | PDF | 4 MB
Insight and interpretation are crucial tools of the psychoanalytic process that have been neglected and misunderstood in recent psychoanalytic literature, where the focus has shifted to the effects of countertransference on the relationship between patient and analyst. Roy Schafer brings these tools back to the forefront of psychoanalytic thinking, integrating them with recent contributions on countertransference to create a more cohesive understanding of the psychoanalytic process. These essays will prove invaluable to analysts trying to maintain an articulated and rounded view of what it takes to bring meaning to their patient's lives through the power of insight and beneficial interpretations.