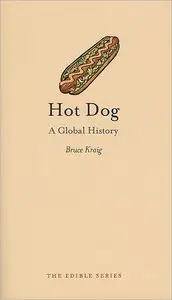 Bruce Kraig "Hot Dog: A Global History"
English | 2009 | 128 Pages | ISBN: 1861894279 | PDF | 1.8 MB
Grilled and served in a fresh, soft bun, and adorned with your choice of mustard, ketchup, chili, sauerkraut, coleslaw, pickle relish or fried onion, the hot dog surely must be one of the world's favourite convenience foods. In Hot dog, well-known food historian Bruce Kraig recounts the history of this popular dish, from the origin of the sausage some 20,000 years ago, to the evolution of the modern form of the hot dog, and its central place in American and world culture today.
The author examines the many types of hot dog sausage, including American varieties such as the Hebrew National, Vienna, Kahn or Morrell in Cincinnati, Pearl Brand (in Boston) and Sabrett, as well as international variants such as Italian bologna and German bockwurst. He also relates the US' myriad regional variations, from 'kosher-style' New York dogs, loaded with mustard and sauerkraut, to New England examples traditionally served with Boston Baked Beans, to Southern corn dogs, to South-western chili dogs, to the remarkable Chicago-style hot dog, which is topped with mustard, onion, sweet pickle relish, a dill pickle spear, tomato slices or wedges, sport peppers, a dash of celery salt and sometimes cucumber slices, but never ketchup. Hotdog also explores sometimes apocryphal tales of the hot dog in history: how the dish got its name for example, and how Queen Elizabeth II was served hot dogs during her visit to the White House in the 1950s. Packed with tasty facts and piquant observations, many illustrations and a selection of tempting recipes, this book shows how this seemingly simple food has a rich history, and is fundamentally linked to America's mythology of itself.
My nickname -
interes