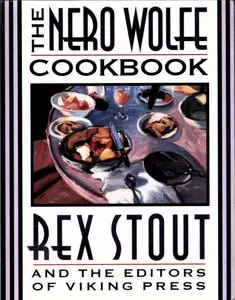 The Nero Wolfe Cookbook by Rex Stout
English | 1996-10-19 | ISBN: 1888952245 | 243 pages | PDF | 6 mb
Real Recipes from America's Greatest Fiction Detective.
Unlikely as it may seem with his gourmet palate, New York City brownstone, ten thousand orchids, and inscrutable genius for solving tangled murder cases, Nero Wolfe is America's most popular fictional detective. Indeed, he is one of the most popular fictional detectives in the world.
Although Rex Stout, who created the rotund and irascible Wolfe, died more than twenty years ago, millions of mystery fans everywhere still read Nero Wolfe mysteries.
In every mystery Wolfe and his wry young operative and fellow detective Archie Goodwin sit down to an extraordinary meal prepared by Fritz Brenner, Wolfe's world-class personal chef. In response to readers who demanded recipes for the dishes, The Nero Wolfe Cookbook was created, in which the secrets of many of Brenner's recipes are revealed, such as Shad-Roe Mousse Pocahontas, Salad with Devil's Rain Dressing, Bread Triangles Fried in Anchovy Butter, and more than 200 others.
The Nero Wolfe Cookbook is filled with one-of-a-kind, high-cuisine recipes spiced by quotes from memorable Nero Wolfe whodumts, as well as observations about Wolfe and food from the books. Forty-four photos recall New York in the 1930s, '40s, and '50s when the Empire State Building was new, art deco was the rage, and Wolfe and Goodwin were in their prime.
Rex Stout published his first Nero Wolfe novel in 1934. Over the next forty years he wrote and published seventy-three Nero Wolfe mysteries, plus dozens of other books. Like Nero and Archie, Stout had a consuming interest in good food.