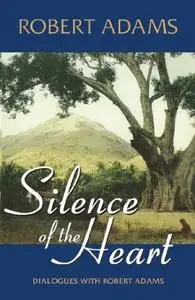 Robert Adams, "Silence of the Heart: Dialogues with Robert Adams"
English | 1997 | ISBN: 1892000008 | 227 pages | PDF | 2.7 MB
" A Spiritual Classic. Incomparable. A rare gentle Master of Pure Truth Who Knows." Five Star Amazon Reviews Ten Years The Father of Awareness "Robert Adams is the only Western Teacher who emanates the purity, realization and true practices of the path to ultimate freedom with a generous charm and grace to people from all walks of life." Gayatri Sudan The Way of Beauty Now Release Fourth Edition- Robert Adams Soft Copy Paperback Book "Never forget the most important thing; Love, Compassion, Humility." Robert Adams is a globally renowned Illumined Master Teacher teaching four decades, a rare Teacher revered in both ancient orthodox and contemporary spiritual traditions throughout the world as the sole American Master Teacher of this century. His famed Live Discourses are transmitted in the international spiritual Classic, Silence of the Heart. His warm gentle humor, unique contemporary sensibilities and un compromised purity of Illumination have touched hearts and transformed lives in spontaneous joy, internationally. Robert Adams, The Father of Awareness, introduced The ETERNAL NOW with the art of compassionate gentle self inquiry to the West at large, then largely unknown. "This has been my experience. Try it and see if it works for you. Bliss is your birthright. You are omniscient love, compassion. The Universe lies waiting in sweet repose for you to discover who you really are. Spread sunshine to all. Acquire a sense of brotherhood." Illumination. Transcendence. Peace. Joy. Compassion. " This has been my experience." "The Silence is Magic. The Silence is Love. This does not mean not to talk. To be quiet. I am speaking of course, of an Interior Realization. Of Joy. " Robert Adams The Gentle Beloved Original Spiritual Classic by Robert Adams.