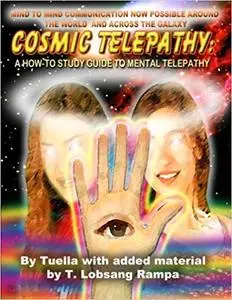 Tuella, "Cosmic Telepathy: A How-To Guide To Mental Telepathy"
English | ISBN: 1892062623 | January 4, 2012 | EPUB | 176 pages | 233.97 KB
A SIMPLE HOW TO PERSONAL EMPOWERMENT BOOK PRESENTED IN AN ORGANIZED BOMBARDMENT OF SPIRITUAL TRUTH. . . EXPERTS PROCLAIM: MIND TO MIND COMMUNICATION IS NOW POSSIBLE AROUND THE WORLD AND ACROSS THE GALAXY. Shrouded in secrecy since ancient times, now it is possible for all sincere individuals to tap into that 80 percent unused portion of the human brain that will eventually enable humankind to cross the barriers of space and time, link up with our "cosmic cousins" and break down the walls of false illusion that exist between many races and groups on Earth. This vital workbook and study guide to expanding your clairvoyant and telepathic powers has been compiled by two of the foremost authorities on altered states of human awareness. TUELLA is widely recognized as the primary channel for the ASHTAR COMMAND, a galactic spiritual force that for decades has rendered valuable assistance in providing "shortcuts" guaranteed to bring about the removal of the wraps of secrecy and unnecessary ritual that have kept clairvoyant abilities out of the hands of the average person. T. LOBSANG RAMPA is one of the greatest teachers of metaphysics having studied many ancient scrolls hidden away in dusty monasteries and the deepest caves of his Tibetan homeland. He is the author of the highly acclaimed THE THIRD EYE. This is a concise an clearly illustrated presentation that will enable to sincere student to. . . * Construct a firm spiritual foundation for establishing contact with their centers of awareness; thus opening up telepathic contacts with those close to the heart, as well as angelic beings and higher life forms. * Use crystals and other easy to obtain apparatus to reinforce and heighten telepathic sending and receiving. * Clear the mind of all false and negative influences, thus leaving the mind open only to receive positive thoughts. * Wash away "bad luck" and spread wide the necessary nerve endings that will enable you to receive only the most beneficial of cosmic forces and spiritual rays. AN ENTIRELY NEW UNIVERSE AWAITS YOU ONCE YOU HAVE STUDIED THE MATERIAL IN THIS EASY TO FOLLOW HOW-TO MANUAL.