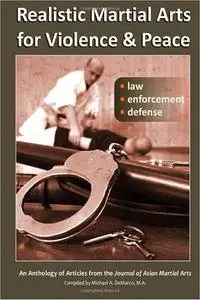 H.R. Friman Ph.s., "Realistic Martial Arts for Violence and Peace: Law, Enforcement, Defense"
English | ISBN: 189376527X | 2016 | 128 pages | EPUB | 7 MB
Criminals, police, military forces, and civilians practice martial arts which often utilize weapons. One major difference is weather or not the weapons are handled according to legal guidelines. This special anthology includes insightful writings that focus on aspects of martial arts as they are practiced and used by different people on both sides of the law. Certainly most practicing a martial art are doing so primarily for their health or as a sport. Perhaps they have an interest in self-defense, but often their practice methods are not realistic enough to be truely effective. For this reason, Friman and Polland's first chapter deals with the concern for realistic methods for training martial artists, particularly those involved in law enforcement. In the following chapter on "The Art of Regulation," Dr. Friman argues that the martial arts are more likely to face government regulation when authorities perceive them as posing challenges to the state's monopoly over the means to create and maintain order. In the quest for maintaining order, Alex Levitas shows in the next chapter that martial arts weapons are widely used by police forces in many countries. Applications are illustrated by photographs credited to noted law enforcement pioneers in this area, including Terrence Winston, Robert Fabrey, Roy Bedard, and Robert Koga. Two chapters by Noah Nunberg examine the practical legal aspects of using martial arts techniques while training in the martial arts studio or in defending oneself on the street. Assault and battery are examined in depth as to potential criminal and civil liabilities that may arise. Specific cases and hypothetical situations are referred to for reference and insight. Dr. Román and Dr. García write about the scope and legal framework of penitentiary self-defense. This kind of self-defense is defined by the unique characteristics of a confinement context and a very specific regulation aimed at preserving the integrity of prisoners and penitentiary staff, as well as prison facilities. A technical section is also included. In the system known as Comprehensive Penitentiary Defense, Dr. Román presents techniques which professionals in this field must master and know how to apply when they face any hazardous situation. These techniques go from peaceful conflict resolution, assertiveness, or body language to joint control, immobilization, or pressures. In the face of regulating martial art practice and weapons useage, the final chapter by Peter Hobart inspects the right to bear arms. Existing criminal laws and recent weapons bans have made it increasingly problematic for legitimate martial artists to own, use, and transport the tools of their trade. This survey of existing state and national weapons laws is intended to help make martial arts practitioners aware of these legal issues. All who read this book—whether involved in professions of law enforcement, military branches, or as a martial arts instructor or practitioner—will find each chapter of vital importance. We hope you will enjoy this anthology as it provides excellent coverage of aspects of the martial arts that are rarely discussed but have profound practicality.
Read more