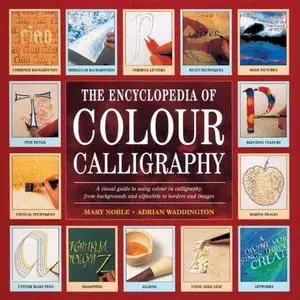 The Encyclopedia of Colour Calligraphy by Mary Noble, Adrian Waddington
English | 2003 | ISBN: 1903975859 | 178 pages | PDF | 114 MB
The essential guide to using colour in calligraphy, from alphabets and backgrounds to borders and images. The use of colour in calligraphy can produce stunning results. This beautiful art form, with its unique relationship between words and images, is the perfect forum for daring experimentation with colour. Autumnal golds, browns and olives will give extra emphasis to a seasonal invitation; fiery reds and purples will add drama to a composition. The Encyclopedia of Colour Calligraphy begins with an in-depth analysis of colour relationships and examines the range of media available. Clear step-by-step photographs and instructions describe the techniques used to apply colour, divided into five easy-to-use sections: lettering, backgrounds, how to combine the two, borders and images, and gilding. Each technique is demonstrated in different colour combinations, from subtle hues to bold swathes of pigment, to help you visualise the many effects which can be created. Finally, a gallery of colourful works from leading calligraphers will inspire you to even greater heights of achievement. The Encyclopedia of Colour Calligraphy is the definitive reference for all calligraphers aspiring to a bold and adventurous use of colour.